Completely Organic Turf Management Plans (No contracts, just give us the say so to get the job done.)
We start from 'the ground up' to develop healthy soils which become the foundation for healthy plants and a healthy environment.
Our granular fertilizer products are 100% organic (not hybrids like other companies).
We have 3 great options which could fit your organic lawn care needs:
Beginning Organics Plan
Organics Plus Plan
Full Sun Bluegrass Plan

Beginning Organics Plan
A great intro step into beginning organic lawn care practices. This plan focuses on giving the grass its needed yearly nitrogen for happy growth. The fertilizer is scheduled to be applied during normal seasonal growth changes. Get started today with the minimum your lawn needs to be happy and green.
Beginning Organics Plan Notes:
-Ease of mowing
-No extra watering
-Perfect plan to get started with organic fertilization
-Cut the lawn at a minimum of 3 inches
Organics Plus Plan
This is a more balanced approach than the Beginning Organics Plan by adding and splitting fertilizer to more intervals throughout the year. This option also includes beneficial micro-organisms which are added to the lawn at key times of the year. These micro-organisms turn the existing soil resources into nutrients for the lawn.
Advanced Plan Notes:
-Good for a higher level of performance over the Beginning Organics Plan option
-Includes beneficial micorganisms
-Minimum 3 inch lawn cutting height preferred
-Summer watering is recommended
Full Sun Bluegrass Plan
Meeting the most demanding needs of sunny blue grass lawns, this option is ideal for those lawns which get watered all year long and have clippings removed from the property. This plan also includes pH balancing.
Full Sun Bluegrass Plan Notes:
-Lawns can be cut lower than 3 inches
-Watering required with this plan (irrigation system preferable)
---
Aeration with Todressing and Seeding
We will core aerate your lawn and cover it with a nutrient filled leaf mulch to give your lawn the air and microbial boost it needs to outperform compacted soils. Once completed, we will over seed the area with grass seed which is specifically suited to that microclimate.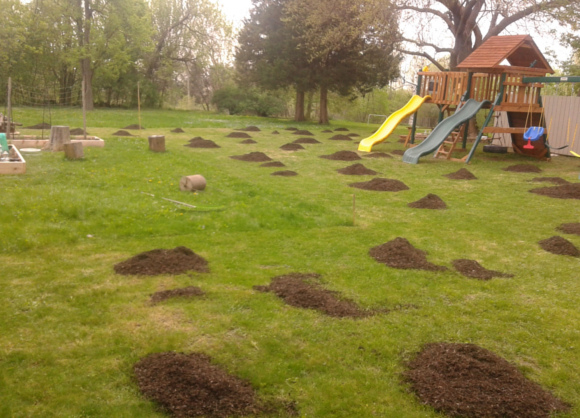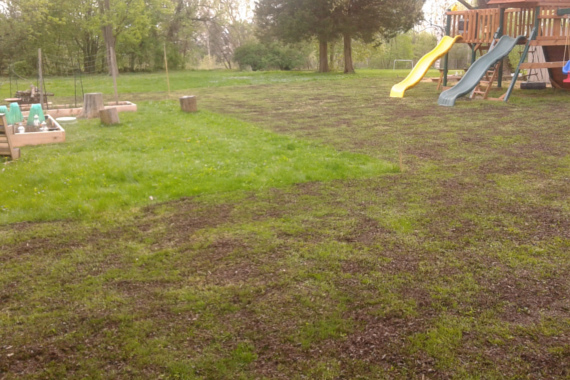 Pre-emergeant applications
Pre-emergeants don't kill existing weeds you have in the lawn. They stop weed seeds from germinating. If you have a very low tolerance for weeds, this enhancement may be appropriate for you. Only offered as an added option. Not included in organic fertilizer plans.
---
Payment Plans
Our Beginning Organics Plan is billed out after each service with a Net 15. This is the same for our a la carte enhancements, if you choose these services as a stand-alone visit.
The Organics Plus Plan and Full Sun Bluegrass Plan can be pre-paid at the beginning of the year (March) with a 10 percent discount. Otherwise, the total amount for all applications will be split into even payments and billed with a Net 15 across 8 months (April-November). A la carte options can be added into the equal payment split option.
Aurora, Batavia, Bloomingdale, Campton Hills, Carol Stream, Elgin, Geneva, Glen Ellyn, Glendale Heights, Hanover Park, Lisle, Naperville, North Aurora, Schaumburg, St. Charles, Warrenville, Wayne, Wheaton, Winfield, West Chicago